The word 'Black' obviously plays a major part in the lexicography of heavy metal; we certainly couldn't compile an alphabetic look back at eighties metal without offering over a whole edition to bands with black in their name, right?
Right! so here, with apologies to the many artists we've overlooked, is a look at some of the best and blackest in eighties heavy metal, name-wise…
Black Alice
Like many of the bands featured in this series, there's a palpable, aching feeling of 'what if?' lingering over the story of Perth natives Black Alice. Hailed by Kerrang! as 'the best thing to come out of Australia since AC/DC', their heady mix of the high-octane (almost Dirkschneideresque) vocals and slick, classy hard rock instrumentation should surely have had a bigger impact on the international rock scene than it did. Their debut album Endangered Species was choc-full of high class hard rock, whether it be Zeppelinesque storytelling (In the Hall of Ancient Kings) or the sort of Valhalla-conjouring tunes of steel Diamond Head would have given their right arms to write (Wings of Leather, Wings of Steel), there wasn't much ground left uncovered on the album. Key to all this was the massive voice of Rob Hartley, a man with the sort of gargantuan pipes that can handle literally anything thrown at them, which was lucky because guitarist Jaime Page had the full armoury of heavy metal riffs at his disposal for deployment in the band's songs. And whilst that sort of variation often means a band sounds like it's trying too hard to cover all the hard rock bases, no such problem exists on Endangered Species. The album garnered interest in the UK, but the band were unable to get over to capitalize on that opportunity and the moment slipped from their grasp.
A second album, Sons of Steel, was recorded, being the soundtrack for a dystopian sci-fi film of the same name that saw Hartley playing the role of – wait for it – Black Alice, a sort of Mad Max/Alice Cooper hybrid, but the music, a depressingly of-it's-time mixture of eighties pop rock and cover versions, wasn't really up to the standard set by that excellent debut. The band are still extant today, although they don't appear to be particularly active. – Gavin Strickmann
Black Rose
Fast, frantic – some might say 'Metallicaesque' – riffs and superior vocals… that's what I first thought about Teesside rockers Black Rose when I came across them on a second hand copy of the 'classic' Neat Records twelve inch sampler One Take No Dubs. The track in question, Knocked Out, remains one of my favourite NWoBHM anthems to this day, a mixture of  breakneck riffage a la Budgie and Diamond Head and vocalist Steve Bardsley's unholy shrieks (kinda like Angel Witch's Kevin Heybourne but with a little more class), there seemed little or nothing standing in the way of the big time for Black Rose.
However I was coming to them in 1984 – two years after the release of that EP and a good four or five after the band's inception – and little known to me the band were already floundering, mired down in the usual morass of lineup changes, record company incompetence and, ultimately, lack of interest from a metal community that was always ready for the latest Kerrang!-sponsored US imports whilst callously ignoring the talent on it's own doorstep. However the band stuck at it, following up their excellent full-length debut Boys Will Be Boys (1984) with a second album Walk it How You Talk It in 1987. Trouble was, the fire and brimstone of that debut was replaced with a glossy, keyboard-swathed hybrid of Heavy Pettin and Tobruk that, whilst being very much a la mode at the time wasn't really good enough to attract new fans in sufficient numbers to replace the old metal heads who had drifted away from the band. Listening now it's not a bad record at all – but it was way wide of the mark at the time.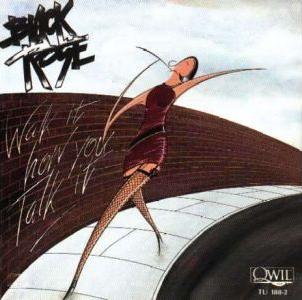 The band reformed in 2006 and released a third album, Cure For Your Disease, independently in 2010. – Gavin Strickmann
Black Sheep
Archetypal mid-eighties LA metalheads Black Sheep released a superb album, Trouble in the Streets, in 1985 which was rammed to the gunwhales with classy, anthemic metal that'll you'll absolutely love if the likes of Stryper, Fifth Angel or Leatherwolf are habitual denizens of your stereogram. Featuring a pre-Racer X Paul Gilbert on lead guitar and the frankly staggering vocalist/bassist Willie Basse – a bewildering mix of Paul Stanley and Jean Beauvoir – Trouble in the Streets is a fabulous slab of heavy, melodic metal marred only by a slightly cheesy take on The Supremes' Stop! In the Name of Love which, whilst lending itself to Basse's soulful vocals really doesn't translate well as an LA shredfest.
Surprisingly – given when and where they were from – Black Sheep completely failed to make a dent on the collective consciousness despite featuring, at various times, Slash, drummers Randy Castillo and James Kottak (Kingdom Come/Scorpions) and shredder Kurt James (Steeler, Dr. Mastermind etc), leaving as a legacy just one album and, thirteen years later, an EP. – Scott Adams
BlackLace
Featuring the incendiary vocals of Maryann Scandiffio, New Yorkers BlackLace (formed originally by brothers Carlo and Anthony Fragnito) were a fiery addition to the metal world when they announced themselves to the scene in 1984 with a staggeringly good debut, Unlaced.  Partly produced by Manowar/Dictators alumnus Ross the Boss the album is an exciting blend of proto -power metal (opening track Call of the Wild was as heavy as it got in 1984 without teetering over the abyss into thrash territory) and more traditional hard rock fare-  Hots for You sounds like something Metal Queen Lee Aaron might have released as a single – with superior musicianship and those devastating vocals really putting this release into the top drawer. The band honed their skills in support of the album sharing stages with the likes of Manowar, Twisted Sister and The Plasmatics, and released a second album, the glossier, sleeker Get it While It's Hot a year later, but record label Mausoleum went bust leaving the band high, dry and disenchanted.
The Fragnito brothers re-emerged as Damn Cheetah and churned out some classy hair metal before forming a power trio – Three For All– with BlackLace drummer Steve Werner (who'd hooked up for a while with Ace Frehley) but Scandiffio, despite a stint in metal  supergroup Thrasher and the Frehley-produced Bang Gang sadly and inexplicably, given the amount of talent she possesses, stayed largely in the shadows until BlackLace reformed briefly in 2004. – Scott Adams