A is for… Angel Witch
In a recent post on his facebook page, no less an authority on these matters than Tom Gabriel Fisher (AKA Tom G Warrior) pronounced: "Angel Witch's Baphomet, one of the best metal songs ever written, and the prototype for most of the music ever created by Hellhammer, Celtic Frost, and Triptykon".
Big praise indeed, but it's useful to remember that it's not so long ago – well, thirty-odd years ago, actually, that the 'Witch were considered more likely to conquer the metal world than Iron Maiden. Their raw mix of Sabbathian doom and fast-paced NWoBHM fury certainly seemed to touch a chord with the headbanging community, and, safely signed to Bronze Records as a result of an impressive live presence, and therefore label mates of the at-the-time unstoppable Motörhead there seemed to be no limits to the band's potential…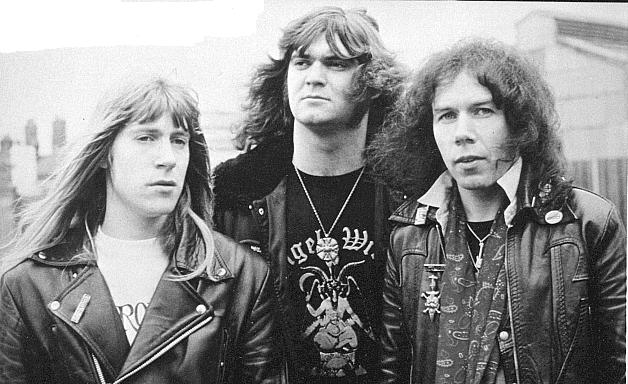 Yet once again – and it's a theme we'll keep returning to as this series develops,singer/guitarist Kevin Heybourne and company managed to snatch defeat from the jaws of victory. They split up almost directly after the release of their debut, self titled album in 1980, with bassist Kevin Riddles and drummer Dave Hogg strangely convincing themselves their futures lay with also-rans Tytan. Heybourne picked up the pieces in 1985 with the patchy Screamin' N' Bleedin' (by which time Hogg had returned), staggering on into 1986 to release the even patchier Frontal Assault, wherein the band employed a distinctly American sound to the disgust of the few supporters they had left. Looking back now, neither of those albums are actually too bad, although possibly a name other than Angel Witch might have been better employed to promote them under. Whatever, Angel Witch was effectively done and dusted by the end of the decade and the next twenty years saw Heybourne bravely forming and reforming various lineups ( about thirty people have called themselves a 'member of Angelwitch') as a plethora of cut-price labels plundered what little back catalogue there was, interspersing those releases with poor-quality live albums to further dilute the legend.
Fast forward to 2012, when the band, now featuring Carcass/Napalm Death alumnus Bill Steer, released a new album aimed squarely at the original fans, as well presumably as the legions like Tom Gabriel Fischer who've been influenced by that storied debut since. But, to my ears at least, the album flopped and the band seems once again to be existing in some sort of NWoBHM limbo. Which is a terrible shame. – Gavin Strickmann
A is also for…  April Wine
By the time the eighties rolled around Canadians April Wine were already ten albums into their career, and alongside Triumph and Rush they were the most widely known Canuck band on the world stage. In 1981, however they really struck it big, releasing the excellent The Nature of the Beast album to high critical and fan acclaim. Containing such diamonds as I Like to Rock and a fine, Skynyrdesque take on Lorence Hud's Sign of the Gypsy Queen, the album opened doors for the band worldwide, they having already made inroads by securing a slot on the inaugural Monsters of Rock bill at England's Castle Donington supporting Rainbow.
However having already been extant for twelve years the band felt in need of a bit of a rest, effectively stymieing the momentum they'd built up outside Canada in one fell swoop. Follow up album Power Play didn't come out until eighteen months after …Beast, and, though it contained the band's biggest ever hit in the catchy if predictable Enough is Enough, hotter, younger bloods such as Loverboy were eating into the April Wine constituency with a voracity the band just couldn't cope with.
1984's Animal Grace saw the band shedding any last vestiges of raw rock power in favour of AOR accessibility; lead off single This Could Be the Right One sounded more like new wave darlings The Cars than anything remotely heavy or rock, and although the track Hard Rock Kid made all the right noises, the band's fans knew the game was up. Frontman Myles Goodwin dissolved the band and, though they predictably reformed in the twenty first century the glory days were and are long gone. – Scott Adams
A is also for … Aragorn
An archetypal NWoBHM band from Cheshire in the UK, Arogorn were an excellent exemplar of the whole NWoBHM sound and ethos. True grass roots heroes, their most famous track, Black Ice was one of the first singles to be released by the legendary Neat Records label, and, despite clearly being very much of its time still remains one of the great lost artefacts of the eighties metal boom in England.
Like all those other also rans, however, the scene just wasn't strong enough to support them and, despite running an exhilarating line in fast-paced riff mania (courtesy of master axeman Jon Hull, who later turned up tour managing bands such as My Dying Bride if memory serves me right) their efforts were sadly doomed to failure. Even support from the BBC's metal messiah Tommy Vance on his Friday Rock Show was not enough to give their careers the boost it so obviously deserved, and they withered on the vine like so many others. They are still extant in some form or other – a bandcamp page exists from which you can still purchase their excellent Night is Burning LP – but they are sadly destined to go down in history as one of the great 'what-if?' bands of NWoBHM myth.- Gavin Strickmann